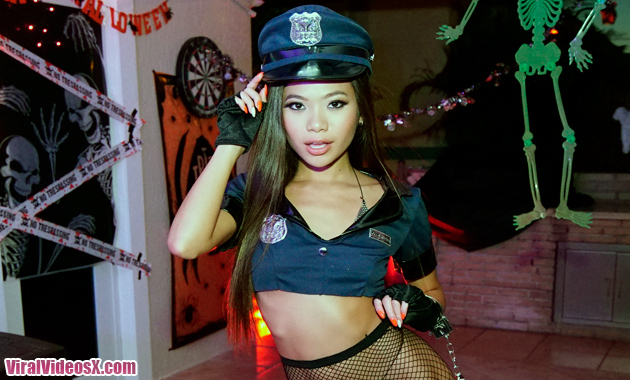 Vina Sky is out trick or treating in her naughty cop uniform! She is a wild daredevil and she flashes her hot body for the cars passing by! She goes into the haunted house and gets extra horny and begs for her tight pussy to be fucked! She gets a nice treat of a big dick pounding out her tight hole as she shows just how controlling she can be as a sexy Mrs. Officer!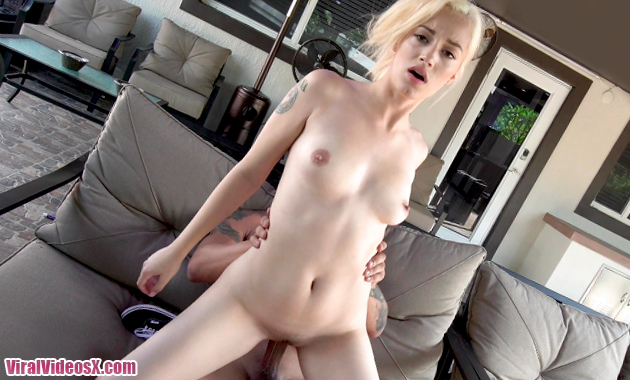 Megan Blue tarda en llegar al escenario y entra en escena para reemplazar a una voluntaria en el último minuto. Ella viene con su merienda favorita, una pizza para amantes de la carne. Ella prueba la pizza y decide que está lista para meter más carne en su apretado coño. Él mete su gran polla dentro de ella para terminar con una descarga de semen en...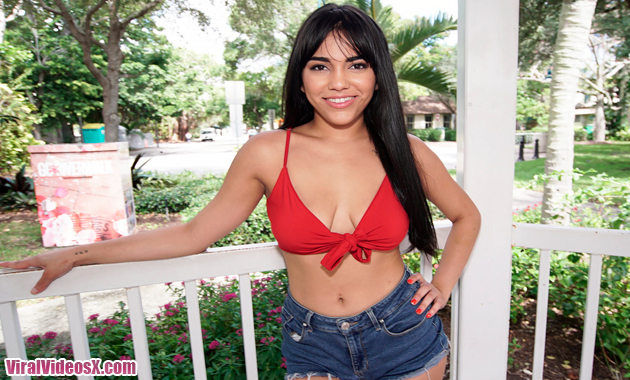 Julz Gotti is 20 years old and she loves to fuck! She has big natural titties that are perfect to grab onto when pounding out her tight pussy. She gets fucked in doggy position and rides his dick so hard and her ass bounces up and down on the couch. Her wet pussy gets fucked RAW!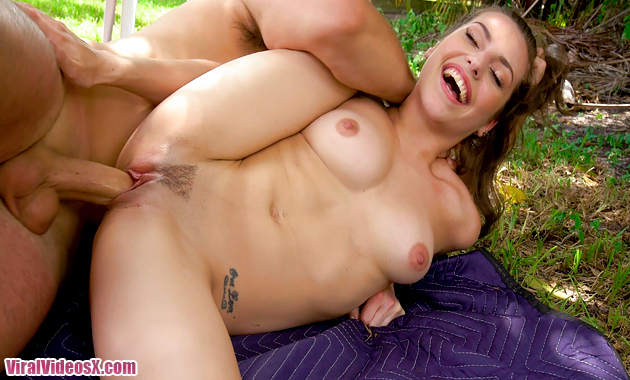 Spencer Bradley is doing her weekend chores mowing the lawn in her backyard! This fun-sized treat is a sexy babe and she has a whole lot of excitement for yard work! She takes off her top and starts mowing the lawn with her titties exposed! She's a feisty little mama with a ripe little booty. He picks her up and fingers her tight pussy before pounding her out!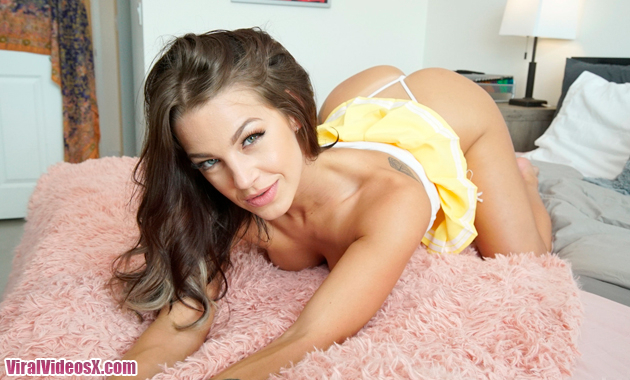 Evelin Stone is a public flashing daredevil! She grabs a scooter and flashes around town and gets honked at from a passing boat in the marina! She gets straight to the point and asks whose dick she gets to fuck because she is horny and ready to get her pussy pounded out. They go back to his place and he lets his buddy get first dibs on fucking her tight pussy!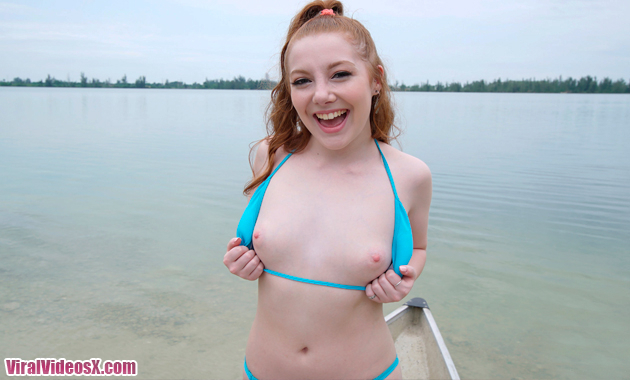 Amber Addis is a sexy redhead that wants to go naked fishing! She is an adventurous young cumslut that takes him out on the lake to fuck her tight pussy! They float out into the middle of the lake and he fucks her pussy until she cums over and over! He pounds her out and she begs for more before sucks his thick cock on the shore and gets a creamy cum facial.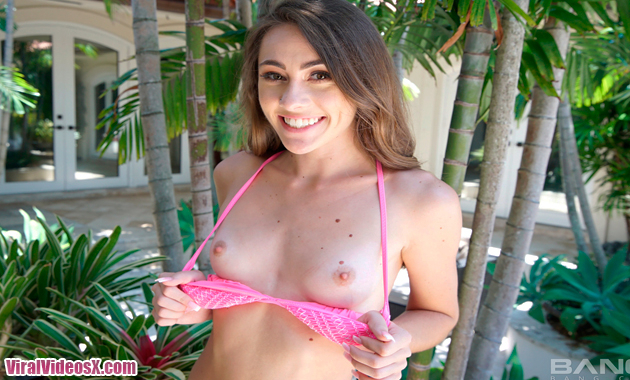 Mackenzie Mace wants to make a sex tape and she hopes it goes viral on the internet. She waltzes around a Florida mansion and strips off her skimpy pink bikini before going out into the courtyard and begging to be fucked. She lays out her petite body on a daybed and gets her pussy drilled and stuffed by cock!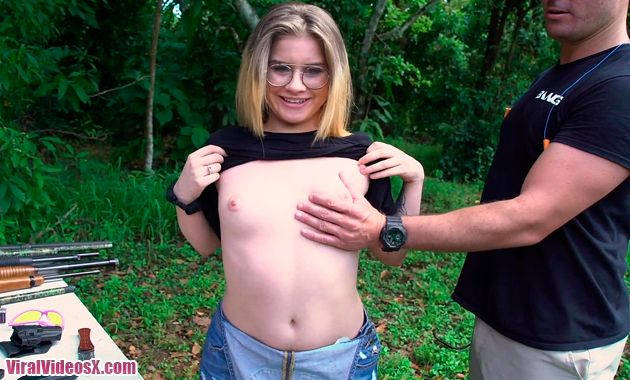 Taylor Blake just turned 18 and is ready to shoot some guns and take some dick! They go out to a deserted field and line up some serious firepower to shoot that gets her pussy extra wet! She lays herself across the table and begs for him to fill her pussy with his rock hard cock! In between sessions he eats her tight pussy and fucks her face before giving spraying it with his cum ammo!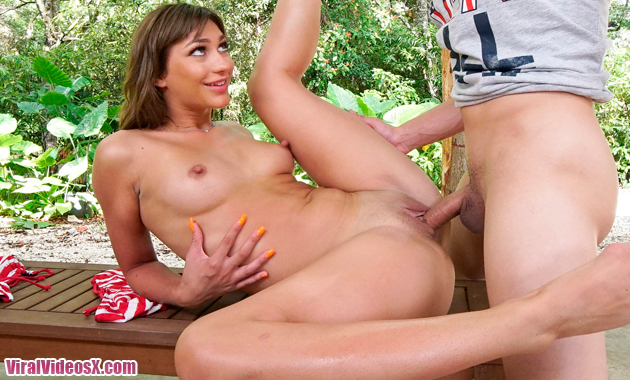 Ana Rose is ready to get fucked on America's birthday. This cutie goes to a BBQ and gets extra hot dogs for her buns! She cuts a watermelon and squirts the juices all over her as she gets double teamed! They take turns fucking her tight pussy and she cums over and over like fireworks!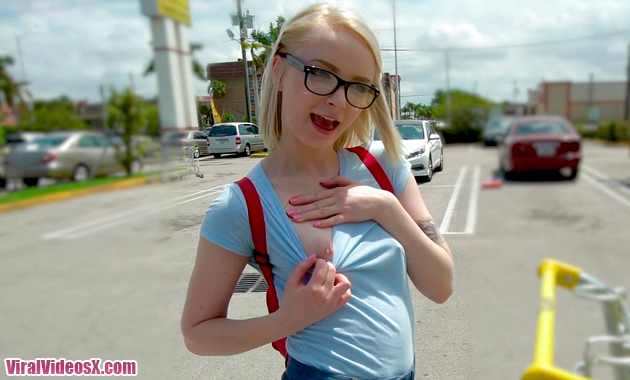 Alice Pink is ready to get her pussy pounded out in the kitchen. She likes to bake, but she likes to get her teenage pussy fucked hard even more! She shows off her titties in the grocery store before going back to his place and turning up the heat in the kitchen! He bends her out over the table and fucks her tight pussy until the cookies are ready!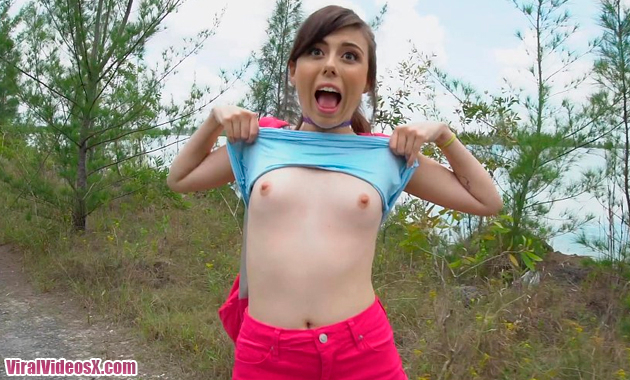 Becca Pierce likes to hike mostly because she likes to get lost and suck cock. She's a horny young teen that flashes the neighbors and has no shame in even flashing in front of a cop car! They go back to his place and he pounds of her tight teen pussy in every position before finishing her off with a creamy cum surprise.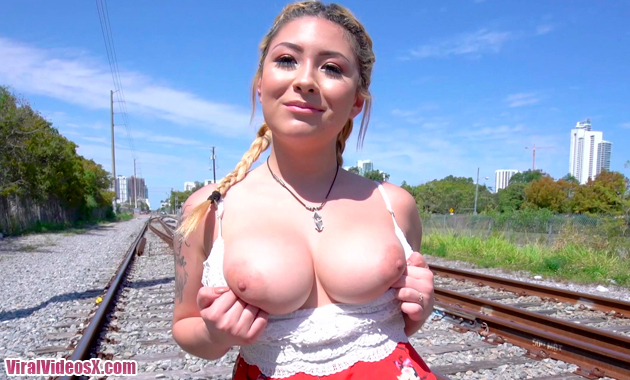 Serena Skye is brand new to porn and we know you are going to love her! She's thick in all the right spots with massive titties and a bodacious ass. See her spread her cheeks open to give you a glimpse of her tight twat before she gives her stud a royal tittie fuck. Her pussy is so wet for his meat he slips it in balls deep and makes her scream for more with every inch!